Jit
Chittra (Jit) Poram comes from the Isaan region (north-east) of Thailand. Her family are rice farmers in that area – like all the family she had to help on the farm from a very young age. To help the family, she left home at 17 years of age and went to work in a clothing factory in Bangkok – so she could send money back home. While her base hours were eight hours a day for six days a week, the pay was so poor (about $4 a day!) that she took overtime whenever she could – often working 16 hours a day. Each year she had one week's holiday (plus three days off at New Year).
After five years working in the clothing factory, she went back to her home town of Buriram, where she took up work as a masseur. She learned as much as she could from her employer and later formalised that by undertaking a Certificate in Traditional Thai Massage with the Thai Traditional Medical Services Society. However, by far the most significant influence on her skills as a masseur was for her to work and train under her highly skilled and experienced mentor Leung Tiang. Leung Tiang taught Jit on a one-on-one basis. Explaining and then showing. Not only going into detail about remedial measures for the musculature, tendon, nerve and skeletal systems of the body, but also the different relationships and connections between these. To this physiological knowledge was added knowledge of acupressure and beneficial lifestyle habits.
Jit developed her extensive skills and knowledge of how to undertake remedial work on the body through Leung Tiang meticulously teaching her all of his vast knowledge of the body.
Although Jit is one of the best remedial masseurs in Broome – many would say the best (some even call her their 'doctor'!) – her limited English means that she cannot get the formal Australian qualification that would enable her clients to gain the health benefit rebates that are sometimes available for people undertaking remedial massage.
Jit worked for seventeen years as a masseur in Thailand before coming to Australia in 2010 and setting up her business Thai Touch. Jit has lived in Broome since the beginning of 2011. Initially she set up her massage business at the Broome Courthouse Markets (where she still has her stall), before the demand for her services led to her setting up performing massages from home. Her home business grew so much that in November 2013 she obtained the former Elysian Nibbana – Massage Utopia in Chinatown, Broome, from which she and her excellently trained and qualified staff provide a range of massage types under the new name Thai Touch – Massage Utopia.
Jit has a son and daughter who are both living in Broome with her – she also has many step-children!
---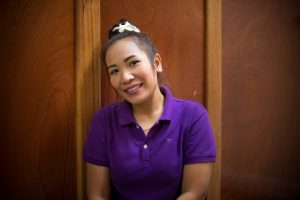 Iyu
Jirapon (Iyu) Porum is the sister of the owner of Thai Touch – Massage Utopia (Jit). Iyu is also qualified with a Certificate in Traditional Thai Massage from the Thai Traditional Medical Services Society.
Iyu worked for many years in office and clerical work at Rangsit University in Bangkok, before starting up as a masseur during 2010. Having worked directly for Jit in recent times, Iyu has been able to learn a huge amount from Jit's extensive experience and knowledge and has rapidly developed a 'feel' for being able to identify and remedy people's ailments.
In addition to her massage abilities Iyu is a highly skilled and creative crystal jewellery maker. Some of her jewellery is on display in the Thai Touch shop.
Iyu is a devout Buddhist – she meditates frequently, is vegetarian (literally would not 'hurt a fly') and often spends long periods in sanctuary in Buddhist temples. You will never hear Iyu raise her voice in anger – she has a special serenity and calmness about her.